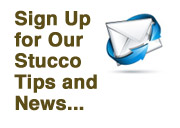 For more information and quote on your next project please call 719-578-8115.
Featured Project
Portofino Towers Denver, Colorado 2003
Local stucco contractor credits team, referrals for success
by Becky Hurley, The Colorado Springs Business Journal-Oct 17, 2003
From a humble two-man lath startup in 1986 to this summer's completion of the luxurious 14-story Portofino Towers in down town Denver, Tom Ware and the TW Stucco team have left their signature on hundreds of residential and commercial structures.
Ware, who started a career as a restaurant manager in Pueblo, soon tired of the rigid indoor environment. A friend talked him into learning the lathe business. "I got on as a subcontractor to a large plastering company, took out trade name certificate and just kept going," he says.

Today, as company president, he counts among his firm's projects impressive names like the Isle of Caprie Casino in Black Hawk, St. Paul's Parish and School expansion, the Widefield Manor Apartments, the new USAFA Cadet Field House, Value Car Suzuki, the Navigators' new visitor's center, two schools for Falcon District 39 as well for both Pueblo Community College and Pikes Peak Community College.
"One of our biggest jobs was a three-year contract to complete 54 family housing building a Ft. Carson," he recalls, noting award of that contract was his largest to date.
"We are the contractor on approximately 30 to 40 residences per month right now," he estimates, adding that business volume can fluctuate dramatically, depending on weather and the economy. "So far, our work ration is about 70 percent commercial and 30 percent residential," he says, adding much of his work is referred by general contractors like Art C. Klein Construction, Mahler Construction, JE Dunn, Nunn and a number of other commercial builders.
The choice of which company to select as the general contractor for TW STUCCO's new headquarters at 3325 Astrozon Blvd., he admits, wasn't easy. "We got bids from a number of companies and narrowed it down. Art Klein was selected for phase one. We may choose someone else to help us with phases two and three," he adds.
So how did this youthful entrepreneur who started out 17 years ago working out of his garage, end up employing 60 to 80 employees. Dan Rundgren of Wachovia recently helped Ware obtain an SBA loan to fund TW STUCCO's expansion and has a few thoughts on Ware's success so far.
According to the local lending expert, Ware's story is typical of many who build an economical operation that outgrows its original space—and the loan process can take up to a year to complete. "First, he had to find the land, get an architect to design it and a contractor to build it," he explains. "Then there's the city approval process which can take more than three months.
"Fortunately, it's a home run for Tom becuse he's made smart decisions," Rundgren adds. "The new TW STUCCO office is next door to one of its biggest suppliers which will save time and the need to carry a large inventory of material. His new building provides more than 5,000 square feet which will also provide storage space for equipment and materials. This is an important step in his business evolution."
So what are Ware's goals for the future? Though he won't provide details yet, he does see increasing interest in a new exterior finish system that is used primarly on auto dealerships, motels and commericial buildings, such as the Portofino Towers. "We recently switched to using an acrylic estomeric system on most projects because it resists water, weather, mildew and cracking," he explains "It cost more, yet it provides excellent durability in the Colorado climate."

Looking back over the business today, the owner marvels at how his world has grown. "We employ almost 100 people a month in peak season," he estimates. "We're doing huge jobs these days-like the new Phil Long dealership off C-470 in Denver for Art Klein. Fortunately, our employees are some of the best in the business, and they're remained loyal as we've grown."
Ware credits longtime employees like field operations manager Harry Lyons, lather supervisors Don Engler, Gary Roderique, office manager Jane Etl and others with enabling him to spend more time building the business. He also recently added a new estimator, son J.R. "We base our success on quality control and repeat customers," says Ware. "So far that strategy is working pretty well."